Get ready to jump to Victory with the New Bates Victrix Saddle ..
COMPETITION TIME
WIN THE LATEST BATES VICTRIX SADDLE
WITH A VALUE OF £2899
Enter here for your chance to WIN this fabulous prize at Townfields Saddlers. Simply click the link. Winner to be announced immediately after Olympia Horse Show the week prior to Christmas. Make Christmas special with this fantastic prize.
Get Ready to Jump to VICTORY in your new showjumping secret weapon ...
Maximum close-feel and seamless contact to work in unison
Lightweight with a tree that flexes with every movement
Unsurpassed shock absorbency
Never has a saddle held such power to unlock their horse's best performance
GOOD LUCK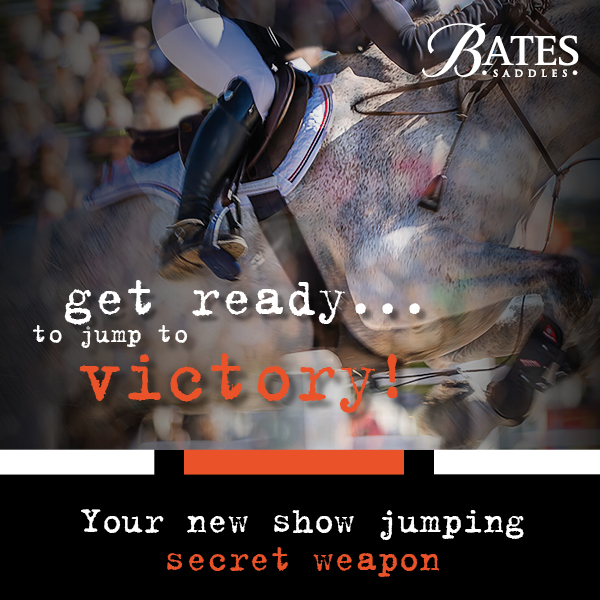 Victory is yours with the latest Bates Victrix Saddle
Unleash your horse's true power in the NEW Bates Victrix saddle. Lightweight and compact, the ultra-close Bates Victrix offers your horse complete comfort and flexion in every stride, giving your partnership the edge over the competition. When every second matters and you are powered by instinct... trust in the Bates Victrix to be your ultimate secret weapon.
To celebrate the launch of the new Bates Victrix, each customer who purchases this new model will receive a FREE pair of Bates stirrup leathers with luxe leather to match.
(Please note the winner will be able to choose the colour of their saddle subject to availability at the time)
View Bates saddles at Townfields here ..
Bates Victrix Show Jumping Saddle take a look ...