Ariat® Womens Coniston H2O Chocolate Country Boots

Ariat® Women's Coniston H2O Chocolate Country Boots
Colour: Chocolate
1 review


In stock
Home Delivery
UK mainland delivery from £6.95
Collect in Store
This item is available for collection.
Product Description
Ariat® Women's Coniston H2O Country Boots in Chocolate are ideal for riding and around the yard or as a fashion boot for leisure/country wear.
The Coniston Country Boots are made with a waterproof, full grain leather and suede upper. The Coniston Boots feature a Sympatex® membrane construction which is both breathable and waterproof, are stirrup friendly with a stirrup friendly outsole,speed lace fit system, full-length back zip system and slip-resisting with a Duratread™ outsole. The Coniston Boots also offer 200g Thinsulate insulation to help keep feet warm all day long. The waterproof membrane extends just above the ankle in the Coniston Boots.
The Ariat® Coniston Country Boots feature the Ariat® ATS® technology to support and cushion the foot and provide optimum stability for all day comfort and performance. The ATS® system consists of a moisture wicking footbed, a gel cushioned footbed with heel stabiliser for shock absorption and a lightweight composite forked shank for stability.
Specifications
Shaft Height 17"
Insulated 200g
Waterproof SYMPATEX
How To....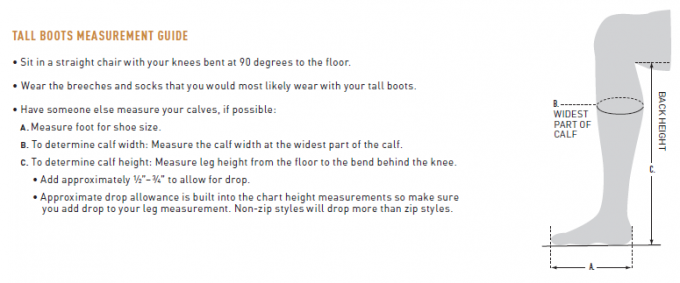 Size Guide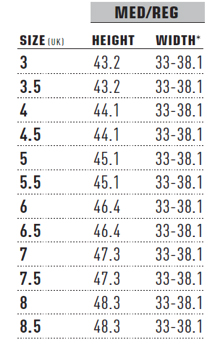 Size Equivalents

Customer Reviews
"This is a review of the Ariat Women's Coniston H2O Chocolate Country Boots in UK6/EU39. These boots come is a very sturdy box with a plastic carrying handle. There are no boots bags supplied but this box will be more than adequate for storage. As supplied the boots come laced with 240cm brown elastic laces, which I found to be a very odd experience. However spare non-elastic laces are supplied in 240cm and 90cm lengths. The latter are useless for these boots – I assume Ariat simply put the same sets of short and long laces in all their boxes. Also supplied is a long plastic shoe horn. I couldn't get this to work very well with these boots and prefer to use a standard short shoe horn. For shipping the boots are well packed with paper and card. Also supplied is a pair of very nice quite heavy-duty plastic and metal boot trees. I was impressed with these. Ariat is an American brand but these boots are made in China, which was a slight disappointment. The boots are a mixture of leather (for the boot, lacing facings and inside shaft) and suede (outside shaft). The leather is a mid brown and the suede a slightly darker chocolate colour. Despite the slight difference these do not look like two-tone boots. The leather is a very flat "corrected" style (second quality leather with a light lacquer coating and an embossed grain). There's what I would call a Wellington boot sole, in black, with a shallow heel. The toe is very rounded. Clearly this is all a matter of style and personal preference – I would have preferred a slight elongation on the toe and leather that could be polished to a high shine. However I presume these are work boots, rather than dress / evening boots. The boots come with a standard criss-cross lacing, which I replaced with over/under lacing with a lace lock at the top and a Berluti knot to ensure they never come undone. This leaves quite a lot of lace left over, which I simply tucked into the top of the boot. Using this method there was not quite enough lace to wrap around the top of the boot once before tying. There is a full-length zip at the back, although no zip cover at the top or bottom. The boot leather is not elasticated so the fitting is done via the lacing and the boot then removed using the zip. There are adjusting straps at the top of each boot, but only three holes each half an inch apart. I think these are mainly for decoration as they made little difference to the fit. When unzipped the base of the zip exposes a small nylon pull, just as you would see in ankle boots. This is a very helpful touch. The boots are waterproof to the base of the zip using a Gore-Tex-type layer (although not actually Gore-Tex). The leather is stated to be waterproof hence why a corrected, rather than top grain, leather has been used. The boots are fully insulated with Thinsulate material (200g per the website, although I couldn't see this on the boot itself). These boots are super warm right to the knee, without too much added bulk. The internal lining is a rather fetching beige tartan. Finally there are two small plastic "ears" at each side of the ankle. These lock into a boot jack (which I still need despite the long zip and shoe horn). A nice touch. I suspect what you're really reading this review for is an indication of size/fit, so here goes. Firstly I'm a man with small feet and these are women's boots. I'm 5'8" tall and with slim legs – my calves are 32cm at the widest point. For height the boots are perfect, coming right up to where my knee bends. They may drop with wear but if you're petite you might find these slightly encroaching at the back of your knee. You'll see that 33cm is given as the minimum width on the size guide. Wearing these with Corrymoor Explorer fully-cushioned knee socks over the top of jeans the boots still lace with no gap for the top 12" of the boot. Thus unless you have really skinny legs (or want to wear them under trousers) you should be able to avoid the "welly-wobble" of ill-fitting tall boots. I bought these in a UK6/EU39 fitting. For the English shoemakers I use (Loakes, Herrings) I'm a perfect UK6 in a regular width. For the Spanish cowboy boots I wear (Tony Mora, Sendra, Mayura) I find EU39 to be a bit tight and EU40 to be a bit loose, although these are – unlike the Ariat boots – very pointed in the toe. On that basis I'd say these Ariat boots are large for their stated size. I get a little bit of heel slippage, and a bit more wriggle room in the toes than I would like (even wearing the fully cushioned walking socks). I suspect I'll end up inserting fleece insoles. Had I been trying these on in the shop, rather than internet buying, I would have tried the 5.5 and 5 just to see. However these are certainly not in the "too big" category, more "slightly roomy". If you're unsure of your size, I'd go for the smaller. I'm not an equestrian – I wanted some tall boots in the style of a WWI British officer's trench boot. These are pretty good for that – generally waterproof and very warm and comfortable. Overall I really like these boots. I would have preferred leather I could polish to a high shine and a slightly more "dressy" toe. However I suspect these are sold as work boots and they do a good job where you want warmth, a bit of style, but will settle for less water-proofing than wellies. However the suede on these boots will be harder to clean than an all-leather boot. I can't comment of longevity (and thus value for money) as I've only recently bought these. Finally - great customer service from Townsfields. This was my first order with them. It won't be my last."
People who bought this also bought...
---
---
---