Lemieux Pro Sport Shoc Air Cross Country Boots

Lemieux Pro Sport Shoc Air Cross Country Boots
Colour: Black

Write the first review

In stock
Home Delivery
UK mainland delivery from £3.60
Collect in Store
This item is available for collection.
Product Description
Lemieux Pro Sport Shoc Air Cross Country Boots are cutting edge of cross-country protection & design, the new ShocAir boots combine the latest developments in material and fabric advancement. These specialist performance boots have been designed to withstand the rigours of cross-country. Vented EVA mould technology gives pliable strength and air flow to the outer shell. Whilst, optimum strike protection is provided by a new impact responsive smart layer between the tendon and the outer boot. This Shoc smart layer is composed of impact responsive Dilettante material containing free-form molecules that remain supple & flexible when not under pressure. However, at the point of impact the molecules articulate and lock together forming a hard protective shock absorbing barrier. - only returning to a flexible state when pressure is released.
This elusive combination of strike protection & tendon support combined with flexibility & air flow come together in one lightweight boot. The ShocAir from LeMieux is truly setting new standards in flexible cross-country protection.

Rigid tendon guards are now replaced by vertical strips of Shock Impact Responsve material that remains pliable until point of impact

The forward facing outer air vents and inner lining of 3D mesh optimises breathability. Complimented by a soft stretch cotton inner lining to ensure comfort and prevent rubbing.

Available in a discrete black finish with deflective hexagonal moulding detail.

• Lightweight optimum weight to strength ratio
• Minimal water Retention (less than 2%) - fabrics resist the up-take of water
• Cut-away profile behind the knee ensures freedom and prevents pinching under full flexion
• Strike protection: provided by EVA technology and Shoc dilettante material
• Shock absorbing impact responsive smart layer minimises effect of concussion
• Natural fit and feel without the rigidity associated with many other XC boots.
Size Guide...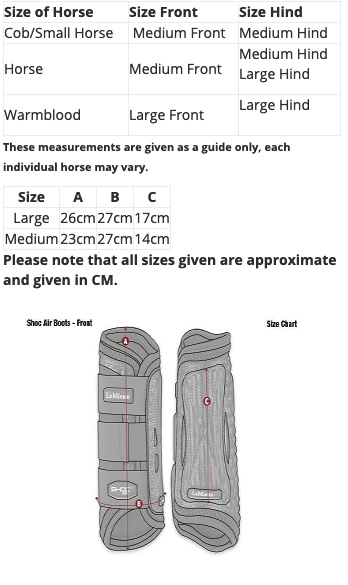 People who bought this also bought...
---
---
---