Lister Liberty Lithium Popular Pack Cordless Horse Clipper

Lister Liberty Lithium Popular Pack Cordless Horse Clipper

Write the first review

In stock
Home Delivery
UK mainland delivery from £6.95
Collect in Store
This item is available for collection.
Product Description
Lister Liberty Lithium popular pack Cordless Clipper, the Lister Liberty Lithium clipper has no air filters to clean making it a very low maintenance clipper and with a choice of three power supplies it can be used in any location. The Lister Liberty Lithium is one of the most versatile machines available using a re-chargeable power pack with waist belt.
PLEASE NOTE CLIPPER IS SUPPLIED IN CLIPPER HOLD-ALL AND SUPPORT TRAY. DOES NOT COME IN A BOX
Features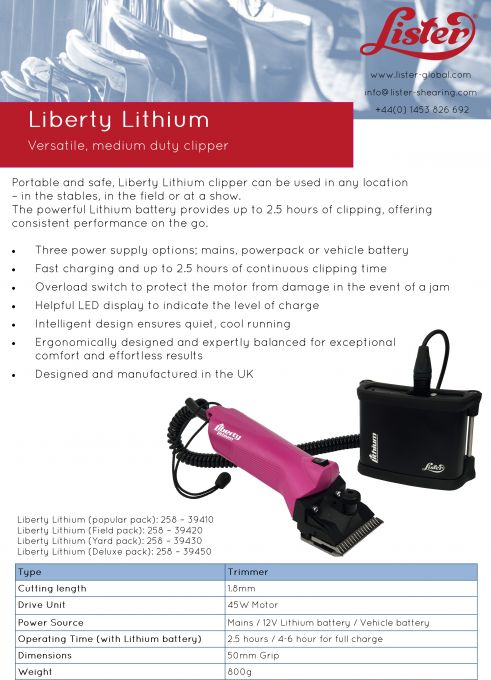 Power Supply
Liberty Lithium Powerpack
How long does the powerpack take to charge?
A full charge takes 4-6 hours. The charger light will turn green when fully charged.
NOTE: Partial charging and discharging will not damage the powerpack.

How much run-time does the Liberty Lithium have when using the powerpack?
A fully charged Lithium powerpack provides approximately 2½ hours of portable clipping.
How do I set up the Liberty Lithium and powerpack?
Charge the Lithium powerpack before use.
Connect the charger to the mains outlet using the correct plug attachment.
Connect the charger cable to the Lithium powerpack. For a full charge, allow the powerpack to charge for 4-6 hours. Disconnect when not in use.
Before clipping, securely clip the Lithium Powerpack to a belt or to clothing, or place in a suitable pocket.
Connect the clipper to the Lithium powerpack. The clipper can now be operated using the switch on the clipper. Disconnect clipper when not in use.
To check the approximate charge level, turn off the clipper and press the "fuel gauge" button on the Lithium Powerpack.
My new Lithium powerpack isn't holding full charge, what should I do?
A new Lithium powerpack will only reach full charge capacity after it has been charged and discharged 3 times.
Does the Lithium powerpack have overload protection?
Yes, the Lithium powerpack includes an overload protection fuse that will switch the power off if the blades become jammed.
What should I do if the overload protection activates?
If the overload protection fuse activates, check the blades for blockages, clear any obstructions and replace any damaged blades.
Ensure the blades are correctly tensioned and oiled.
How do I reset the Lithium powerpack? I can't find the reset button.
The Lithium powerpack fuse will reset automatically, so clipping can resume.
Whats Included
Liberty Lithium Clipper Head

Lithium Battery

Mains Battery Charger

Brush,Oil and Screwdriver Set

Clipping Belt

Clipper Pouch
PLEASE NOTE CLIPPER IS SUPPLIED IN CLIPPER HOLD-ALL AND SUPPORT TRAY. DOES NOT COME IN A BOX
People who bought this also bought...
---
---
---