---
Protexin Gut Balancer
Protexin Gut Balancer A probiotic powder to encourage normal digestive function and efficiency for continuous use, or to help maintain a natural immunity at times of stress or digestive upset.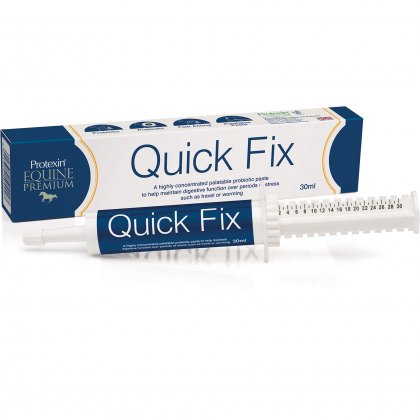 Protexin Quick Fix
Protexin Quick Fix A highly concentrated probiotic paste flavoured with peppermint to maintain digestive function over periods of stress such as travel or worming. Six day course.
---
Protexin
Townfields offer a range of Protexin supplements for your horse all with your horses welfare in mind. Protexin Gut Balancer supports optimal nutrition by providing key nutrients, and by improving digestive function and efficiency. Gut Balancer contains a palatable probiotic and unique dual source prebiotics, specifically designed for horses and ponies and used daily for general wellbeing. Protexin Quick Fix is a nutritious paste with a highly concentrated probiotic and prebiotic to rapidly re-establish the horse's gut microbiota in times of stress or change, including travelling, worming and antibiotic treatment.
Protexin Acid Ease supports optimal nutrition by providing key nutrients, gut lining support and improved digestive function and efficiency. Acid Ease is a unique, concentrated, palatable combination of high quality fibres, calcium and magnesium carbonate, kaolin, amino acids and Protexin probiotics and prebiotics. Presented as a palatable dandelion flavoured powder, Acid Ease is suitable to calm excess acid in all horses and weaned foals.
Browse Protexin Products here ....