---
Thorowgood Airoform Dressage Girth
Thorowgood Airoform Dressage Girth is an award winning girth in a dressage style, gently curved for a snug, contoured fit. Using Airoform cushioning which eliminates pinching of the sensitive skin behind the elbows. Features include a new centre stitched keeper at each end to hold the long girth straps in place, textured airflow, elasticated inserts to reduce and make tacking up easier, stainless steel...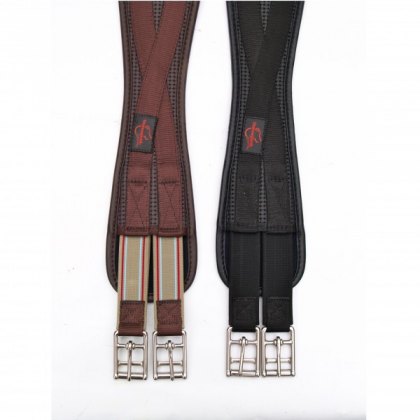 Thorowgood GP Airoform Girth
Thorowgood GP Airoform Girth a bestselling girth at Townfields Saddlers. This award-winning girth is horse and user friendly and great value! Textured to allow airflow, it stays soft and supple even when dirty. With stainless steel roller buckles and elasticated inserts at one end. Just sponge clean.
---
Thorowgood Tuff Stirrup Irons
Thorowgood Tuff Stirrup Irons no more scrubbing and polishing with these tough polymer stirrups in stylish black. They're super-light and move with your feet as you ride, so you're less likely to lose a stirrup. Unlike heavy irons, they won't knock against your horse's sides or elbows and startle him. With a non-rust finish just sponge them clean. Complete with sure-grip treads.
---
Thorowgood
Award-winning range of Thorogood girths has stay-soft Airoform cushioning which is textured for airflow and comfort. Shaped to fit and eliminate pinching. Designed with double-layer stitching system and stainless steel roller buckles on both ends for superior strength. Thorogood girths are a bestseller for all equestrian disciplines, easy to clean and maintain and offering the horse supreme comfort.