---
Clipperman Jewel Trimmer
Clipperman Jewel Trimmer is a 3.7V dual speed battery powered trimmer (comparable to 12W mains power) offering cutting speeds up to 3,350RPM by using the pro button. Built-in rechargeable Li-Ion battery gives up to 5 hours run time with only 3-5 hours charge time (dependent on use). The digital display enables you to know exactly when you're about to run out of power or how much longer you need to...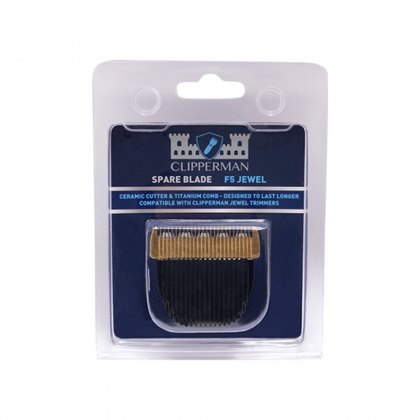 Clipperman F5 Jewel Blades
Clipperman F5 Jewel Blades are detachable 2-in-1 ceramic cutters and titanium coated comb, featuring the F5 snap-on connection. Cutting length is dictated by the Clipperman Jewel trimmer it is used with. Supplied in a plastic blister pack.
---
Clipperman
Clipperman is a brand dedicated to providing you with exceptional clippers, trimmers and shearers for your horses and dogs. The range caters for everyone, whether you have one dog in need of a trim or a yard full of horses needing full clips.
Clippermans range includes both mains and battery operated horse clippers and trimmers as well as blades, oil, blade wash and even additional battery packs.
At Clipperman, we have your every clipper need covered.